Replace Old Garage Doors With Beautiful New Doors!
New Garage Door Installation
Broken Garage Door Spring Replacement
Garage Door Off Track? We fix that!
Military and Senior Discounts!
New Garage Doors
At Kent Garage Door, we only install products we would use in our own home. That's why we are proud to carry and install garage door equipment by trusted brands like Anderson Door Co., Genie, LiftMaster, Amarr and Wayne Dalton. And since all of our repairs are made at your home on site, you know you are getting quality service and excellent installation.

We offer Senior Citizen and Veteran Discounts!
Call (330) 221-0241 today to find out more.
Panel Garage Doors with windows
We provided a replacement garage door for this customer with a new panel style garage door.  This new garage door also had windows but at the top of the door for security but still allowing for natural sunlight in the garage.  We offer 1 day installation and can retrofit any size garage door opening.
Replacement Garage Doors
Replace an old worn out garage door or opener with a new energy efficient garage door.  We can install a new garage door in 1 day and can custom order and retrofit any size garage door opening.
New Garage Doors with windows
These new replacement garage doors come with windows to let the natural sunlight in.  These windows are placed high so even though the light can easily get in, unwanted looking into your garage is hindered.
Call Kent Garage Doors now to learn how we can save you money with a new replacement garage door
Why Invest in New Garage Doors?
Keeping your garage in top shape is an important part of maintaining your home. Even if your current garage door isn't broken, replacing an old or outdated door has a number of benefits including: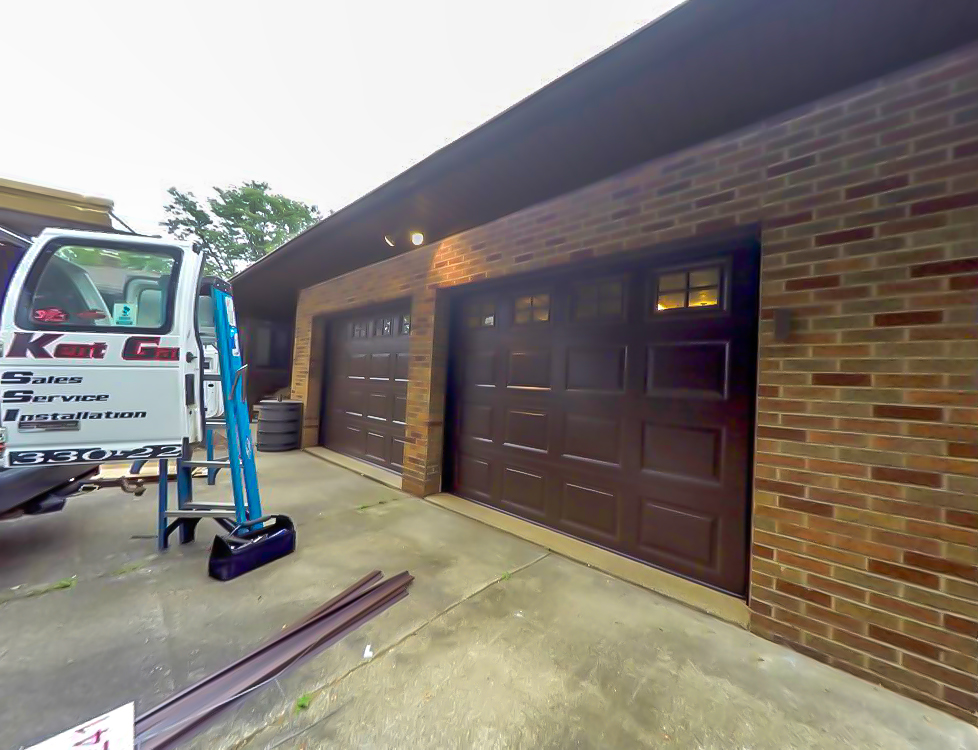 Increasing Your Home Value – Yes, getting a new garage door can actually increase your home value! A new garage door adds curb appeal and that adds value.
Decreasing Your Heating/Cooling Bills – Old garage doors aren't insulated and therefore are less energy efficient. Older doors tend to let out heat in the winter and cool air during the summer. New doors can help you get your garage's temperature under control and save you money in the long run.
Increased Security – A new garage door means a safer garage door.
Decreasing Routine Maintenance – Newer garage doors require less maintenance, it's that simple! New doors will help you save money on constant repair and tune ups.